Tech
Why buy a traditional WiFi router now?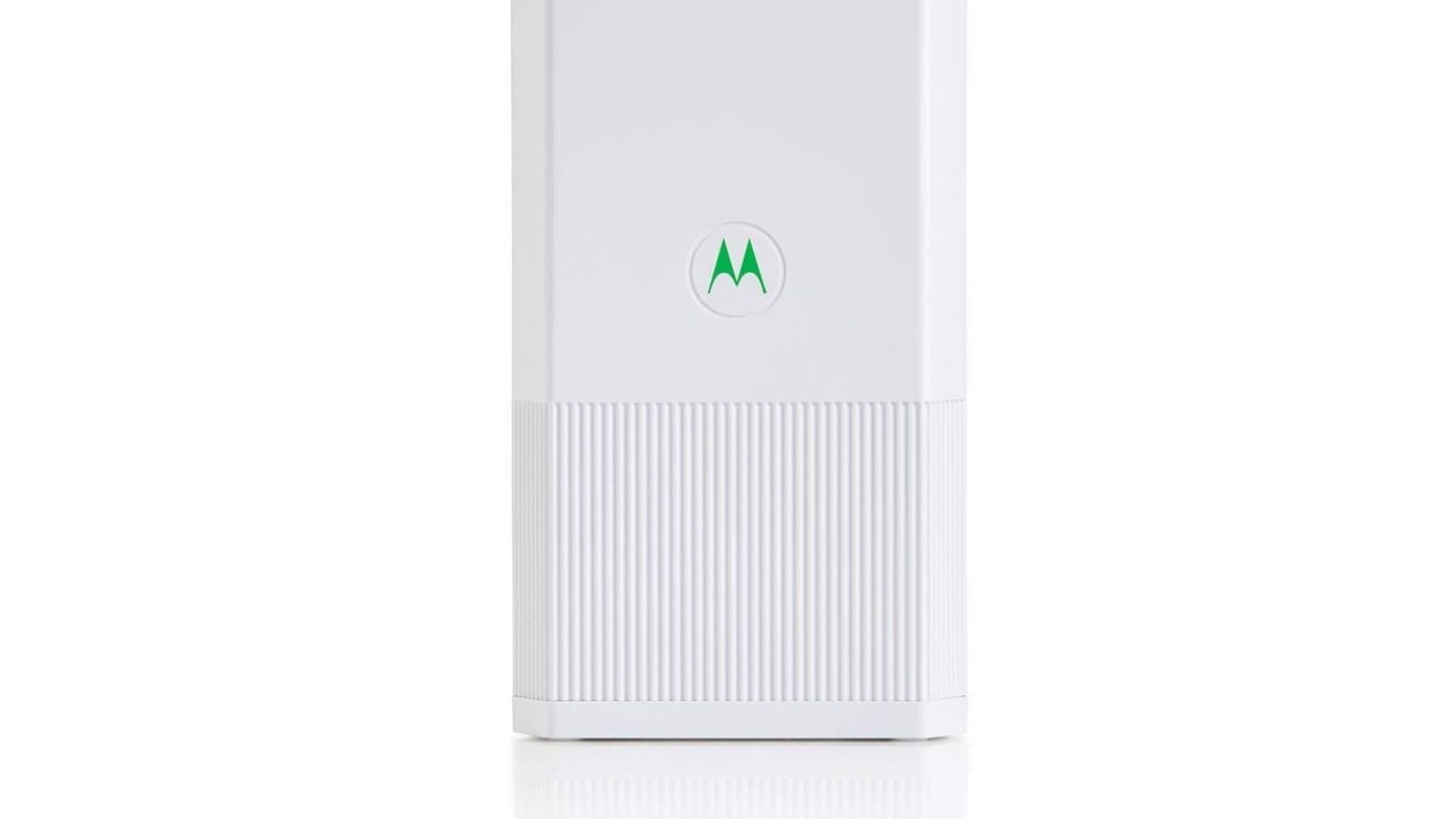 In this era of telecommuting (WFH), better Wi-Fi routers than ever before are essential. Your home broadband may be fine, but if the routers that provide Wi-Fi coverage and are supposed to deliver the speeds you expect aren't up to date, you're in trouble. The zoom call will be disconnected. File downloads will be slower. And when you're done, Netflix can be a mess of stuttering and buffering. Exacerbating the problem with Wi-Fi routers may be the complexity of home design and the lack of goodness of wireless internet in every corner of the home. Not only do you need a good router at home, but you may also need something that can be further incorporated into your mesh system to improve coverage. Ready to use, the Motorola MH7020, a Minim Wi-Fi router, is ready for a mesh system if needed.
The Motorola MH7020 is a standalone package of mesh-enabled Wi-Fi routers priced at Rs 7,999, but can also be purchased with the option of including one or two satellites. This is the MH7022 with one satellite added to the package (which costs Rs 13,999) and the MH7023 (which costs Rs 19,999) if you need two satellites. Really large homes and indoor spaces need the latter, and most homes take advantage of the combination of routers and satellites. What we're looking at here is a standalone Motorola MH7020 that understands how a single-unit setup works in terms of range and delivery speed. The flexibility to add satellites later to extend the reach of your home Wi-Fi network is very useful.
As a standalone Wi-Fi router, the Motorola MH7020 is much cheaper than you would normally find from a more powerful Wi-Fi router. I'm talking about standard routers, not mesh systems. Because it's a tri-band router, it competes with the Netgear Orbi AC2200 (which costs about 12,999 rupees) and the Linksys Velop WHW0301 AC2200 mesh-enabled router (which costs about 15,999 rupees). Don't expect the latest products like Wi-Fi 6. However, this is equivalent to the AC2200 spec sheet specification as a rival. We're testing a single unit setup here, and since we don't have access to satellites to integrate into our Wi-Fi network, how it works in terms of range, how easy it is to set up and configure. Can't really be claimed. .. Even so, there is a channel dedicated to backhaul communication, and basically the router unit and satellite unit communicate with each other, so the basics are well prepared.
You must use the MotoSync app to set up and manage your Motorola MH7020 router and mesh system. The Moto Manage app is also available and offers unnecessary complexity by providing similar functionality, but when I say this, the Moto Sync app is significantly better, more stable and reliable. there is. The user manual will guide you to MotoManage, avoid it. I made that mistake, now you shouldn't. My Motorola MH7020 test unit was set up with the Moto Manage app, but switching to the Moto Sync app is nothing more than an absolute nightmare and patience test. Certain errors are the principle, and it is almost impossible to generate permission to allow the same user with the same account in both apps to switch from the MotoManage app to the MotoSync app. Also, the Moto Manage app doesn't have the option to remove a unit from your account until you set up another unit.
As I said, I couldn't set up the satellite unit, and no observations about it remain available. The router itself has a Gigabit Ethernet port, which is good news if you have a 1Gbps broadband line at home. Connecting it to an Airtel Xstream broadband router and detecting the connection was very seamless. Setup was completed in minutes. This also includes security updates that need to be downloaded at that time.
On paper, the Motorola MH7020 has a checklist of what you need for a good home Wi-Fi router. In Motorola and Minim terms, features such as Range Boost, Power Boost, and AnyBeam Wi-Fi beamforming are available. Aside from naming the excitement and potential, the Motorola MH7020 covers most apartment sizes pretty well. I was amazed at how well the 5GHz Wi-Fi range lasts even after passing through two brick walls and a thick wooden door, something like the Linksys Velop VH0301 struggling in standalone mode.
Motorola MH7020 is a 200Mbps broadband line that provides download and upload speeds of around 210Mbps over 5GGHz networks 5 feet away, delivering speeds of around 160Mbps on a single wall. However, at this stage, some devices, such as smart TVs, push towards the 2.4GHz band to extend their range, which can result in a slight slowdown in reading speed. However, there are two barriers to the significant performance degradation of the Motorola MH7020. This is where the 2.4GHz band provides download speeds of about 30Mbps and the 5GHz band (some devices detect it, but most do not) provides speeds of about 65Mbps. The second and third distance tests are slightly slower than the Ubiquiti AmpliFi HD router, but at half the cost.
What the Motorola MH7020 does not have is a quality of service (QoS) setting. This is useful if you have multiple devices on your network that have a lot of data traffic and you need to tweak them to get the most out of your broadband lines. of. Hopefully it will be added as a feature of subsequent software updates. For the time being, intelligent band steering that tries to reduce the load on the Wi-Fi band by switching devices according to traffic congestion and usage conditions is useful.
Malware is a fairly aggressive threat, and the Motorola MH7020 has a solution integrated into the protection mechanism, especially when smart home devices are connected to the network. The router intelligently scans the traffic on your network to detect anomalous activity or traces of malware affecting a particular device and alerts you to lock down a particular problematic device. You did not receive malware alerts for connected devices. When you're testing your router, you can always open the MotoSync app> Network> Security Center to see how your malware is being monitored.
The Motorola MH7020 has great details such as restricting Internet access on devices connected to Wi-Fi, blocking adult content with search engines, and turning off Wi-Fi access at certain times. We also use a set of parental controls. Sun — It may be a good way to get kids away from Netflix and go for their homework. One of the complaints I have with the MotoManage and MotoSync apps is the integrated speed test option. This was inaccurate and could have been a perfect barometer of the exact speed of the wired route. Linksys and Netgear's companion app for Wi-Fi routers perform these speed tests much more accurately.
Last word: The versatile Motorola MH7020 is amazingly good
When a Wi-Fi router is as essential to your home as a laptop or a good broadband connection, the Motorola MH7020 comes across as a really interesting option. This has a clear price advantage over standard Wi-Fi routers and single unit avatar mesh systems. And there's a clear performance upgrade and the flexibility of being a mesh. This is something that routers that would otherwise cost as much would not have. The Motorola MH7020 is a truly capable effort, with all of Minim's efforts, without any obvious omissions in the feature list. In fact, malware detection and detailed parental controls are really useful. Performance on high-speed broadband connections is good, and its range again surpasses most of its rivals. Why not buy this instead of spending about 8,000 rupees on a traditional Wi-Fi router? You can also add satellites later to further expand your internet coverage in your home. A Wi-Fi router that bundles real value thanks to price tags and doesn't really compromise your experience.
Read all the latest news, latest news, coronavirus news here
Why buy a traditional WiFi router now?
Source link Why buy a traditional WiFi router now?