Business
When will Nifty exceed the 13000 mark? Market Guru Anil Singhvi reveals trigger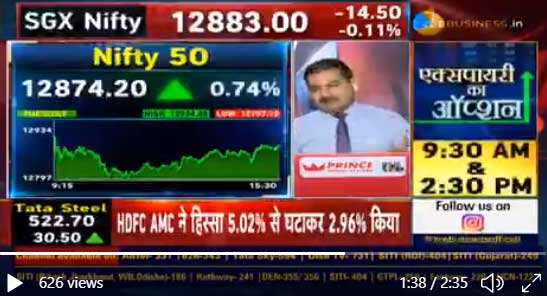 Anil Singhvi, Editor-in-Chief of Zee Business, believes that NSE Ifty's 13,000 numbers come from a variety of factors. In it, he cites positive sentiment, good money flows, strong fundamentals and positive data. However, it is not a smooth process. There are some hurdles that can be seen from the monthly and weekly expiration dates.
13000 केपारकबनिकलेगानिफ्टी?

अनिलसिंघवी-पॉजिटिवसेंटिमेंट, अच्छेफंडफ्लो, मजबूतफंडामेंटलऔरडाटासेआएगा 13000 काआंकड़ा … लेकिनमंथलीऔरवीकलीएक्सपायरीसेरूकावटकेसंकेत#EditorsTake # Stock market #Nifty @AnilSinghvi_ pic.twitter.com/jyvf69FhbK

— GeeBusiness (@ZeeBusiness) November 18, 2020
Market Guru states that global indicators are neutral, neither strong nor weak. It wouldn't be a big deal if the Dow Jones fell 150 points and the Indian market fell 25-50 points. It is not possible to see the market close in green or red every day for several consecutive days. If the market takes a break and integrates at a range of current levels, it's absolutely fine and good for the strength of the market.
Singhvi respects the strong level of 13000 where the market is acting as a hurdle, and to exceed this level the market fundamentals and sentiment need to be very strong and the global market supports He added that it needs to be targeted and supported by strong financial flows. .. Without strong fundamentals and money flows, markets cannot sustain at higher levels and longer periods based on sentiment.
Anil Singhvi said that three to four things can be seen to exceed the important level of 13000 in Nifty. Market and participant sentiment is good, FII strong buy numbers show a strong picture of the flow of funds, and strong corporate performance shows strong fundamentals of the Indian economy. According to data analysis, monthly and weekly maturities have the highest open interest at around 13000 levels.
Singhvi added that a one-day or two-day integration would be good for the power of the market. Sector rotations will occur between companies, new leaders will emerge, and the market will reach over 13000 levels. This integration ensures that the strength of the market will not reach the 13000 level, but will last longer and decline again based on sentiment. The market is building a strong foundation in the range of 12650-12700 on the lower side and 13000 level on the upper side. By integrating in this range, the market is guaranteed to form a strong foundation and make strong upward movements above the 13000 level.
See Zee Business Live TV Streaming below.
Anil Singhvi also emphasized the importance of monitoring how traders and investors behave. Some will make a profit at this stage of the integration, while others will be patient during this period. There is no doubt that the market looks weak at its current level, as data analysis clearly shows that the market position is currently very strong.


When will Nifty exceed the 13000 mark? Market Guru Anil Singhvi reveals trigger
Source link When will Nifty exceed the 13000 mark? Market Guru Anil Singhvi reveals trigger