World
North Korea: Explainer: Kim Jong Un's launch shows a push to boost nuclear weapons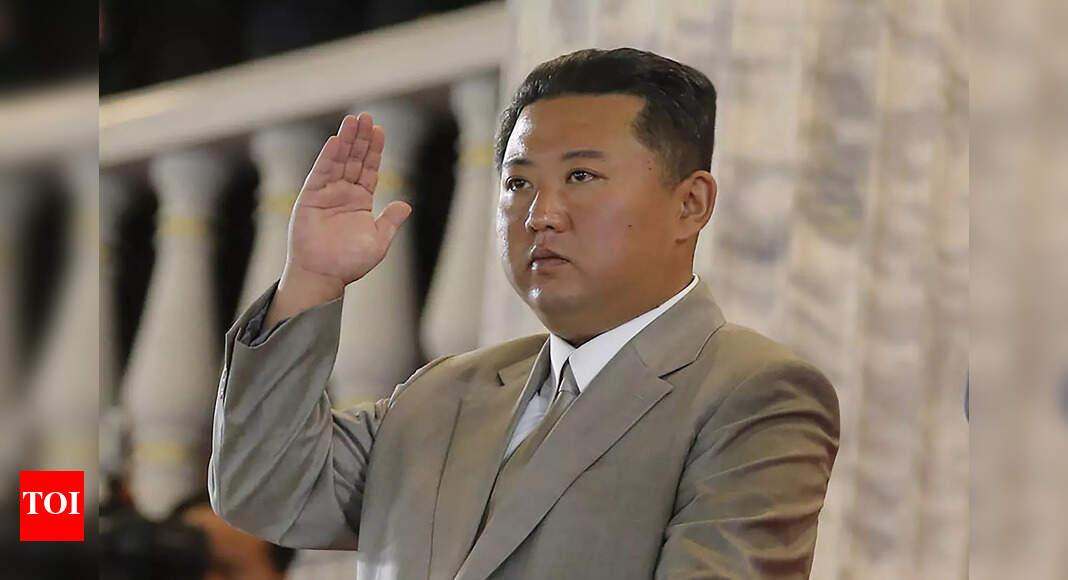 Seoul: North Korea's recent sword rattling after a few months of relatively quiet reveals that leader Kim Jong Un is working on expanding his weapons.
A nuclear-powered missile hidden in a train that can be launched anywhere on the railroad. A new cruise missile similar to the US Tomahawk, with the potential to carry atomic warheads. Apparent resumption of fuel production for potential nuclear bombs.
If long-term diplomatic negotiations on Kim's nuclear program resume, and when, it is likely an attempt to steal concessions from Washington. However, part of the message aims to strengthen domestic cohesion as North Koreans address the deeper challenges in the never-healthy economy that have been hit by the coronavirus pandemic.
Here we look at what it means for Kim's recent weapons test for the first time in six months and his efforts to confront North Korea's nuclear ambitions.
New weapon
North Korea said two weapons launched on Wednesday attacked a target in the sea 800 km (500 miles) away, and said the first train-launched ballistic missile test was successful.
This will bring South Korea and all of its hosted US military bases within range. Experts say the missile is nuclear-ready.
Launching from trains also adds another platform for missile launches-in addition to mobile trucks, ground pads, and submarine methods that are still being tested. Train-based platforms leverage North Korea's national rail network to enable secret movement and launch, but experts point out that the rail network is a vulnerable target of the crisis.
"It's another headache for South Korea, which needs to protect itself from North Korean missiles," said Lee Chun Gun, a missile expert at the National Institute of Science and Technology Policy.
Last weekend, North Korea also tested what is called a new cruise missile that flew about 1,500 kilometers (930 miles). It has become North Korea's longest-range cruise missile that can reach all of Japan, home of 50,000 US troops. ..
It was developed for nuclear support and flies at low altitudes, making it difficult to detect. Its development demonstrates North Korea's push to break the enemy's line of defense and diversify its inventory of heavy weapons for ballistic missiles.
Satellite images also show signs that North Korea has resumed operations at its major factories to produce weapon-grade plutonium, the main ingredient used in the production of nuclear weapons.
What Kim wants
Kim's resumed testing activities are primarily "to develop military power, but also to strengthen domestic unity," said Reif, an associate professor of international studies at Ewha Womans University in Seoul. Eric Easley said. "Pyongyang wants to hide its weaknesses and draw external concessions, so it could launch provocations even when it's economically urgently needed."
Kim may also be returning to the proven technology of putting pressure on the world with missile launches and exorbitant threats before offering last-minute negotiations aimed at withdrawing aid.
Park Wong-gon, a professor of North Korean research at Ewha Womans University, said, "We need to pay more attention to what will happen, but it is possible that we are approaching another stage of (North Korea's) brinkmanship policy. There is. "
North Korea's recent tests could be a modest reaction to South Korea's efforts to continue joint US-South Korea military training and build its weapons program.
Kim's ultimate goal would be to be free from the blows of international economic sanctions and to retain nuclear weapons, which are considered the only guarantee of survival, even if the United States is recognized as a nuclear power.
What's next?
North Korea could continue to intensify its pressure campaign, at least until China begins to seek calm for the Beijing Olympics early next year. However, we are still looking for less coercive diplomacy, so we can refrain from testing more provocative weapons.
According to analyst Park, North Korea needs to test its weapons development until around November. Then there is the risk of damaging relations with China.
North Korea may also conduct other weapons tests around major state anniversaries, such as the ruling Labor Party's founding anniversary on October 10.
"To upgrade the capabilities of our weapons, the next test queue may be a submarine-based system rather than a nuclear weapon or ICBM," Easley said.
Despite recent weapons tests, North Korea has maintained a voluntary moratorium on nuclear and long-range missile tests for over three years. It suggests that he wants to take advantage of future diplomatic opportunities with Washington.
While Pyongyang is looking for a window to diplomacy, it may be carefully measuring its behavior.
"It's no surprise that North Korea makes an immediate effort to reach out to Washington and Seoul, just to measure their intentions," said Hong Min, an analyst at the Korea Institute for National Unification in Seoul. ".


North Korea: Explainer: Kim Jong Un's launch shows a push to boost nuclear weapons
Source link North Korea: Explainer: Kim Jong Un's launch shows a push to boost nuclear weapons