World
Los Angeles bomb technician caused a big explosion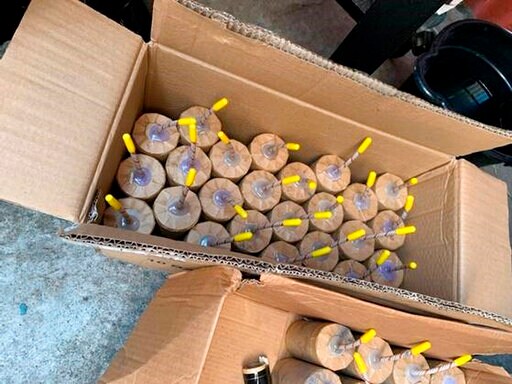 Los Angeles: A federal investigator reported when police bomb technicians in Los Angeles improperly detonated illegal fireworks in June, causing a big explosion, shaking the city's neighborhood and injuring 27 people. I made a big miscalculation.
A 51-page report from the Bureau of Alcohol, Tobacco, Firearms and Explosives, released Tuesday, ruled out other possible causes, such as equipment defects, for the June 30 explosion in South Los Angeles. The Los Angeles Police Department also published its own 53-page follow-up report.
Technicians overloaded the containment room with illegal fireworks that exceeded the equipment's safety rating after authorities were called to a home in South Los Angeles in search of a huge fireworks hiding place before July 4. Preliminary findings previously stated that it was likely due to the mistakes of the bomb technician.
The ship exploded and debris fell on dozens of homes, businesses and vehicles. The ATF estimates that the catastrophic explosion caused more than $ 1 million in damage to the neighborhood.
Authorities revised the number of injuries to 27 in a newly released report. Authorities previously said there were 17 people. Some victims are making legal claims as a precursor to a lawsuit against the city.
Many locals have been forced to evacuate, after which two elderly people have died. The Los Angeles Times reported that authorities attributed their deaths to illness and natural causes, but families and activists claimed that the explosion caused the stress that caused their deaths.
Fireworks are illegal to sell or own in Los Angeles and the county's unincorporated areas. Illegal fireworks were found at the home of Arturo Ceja III, who was found guilty of transporting explosives without permission in federal court last month. He is also facing state accusations.
According to the LAPD report, the authorities' bomb engineers have not been formally trained to operate containment vessels, they are merely vocationally trained in their use. Many explosives they contained, investigators found.
Disclaimer: This post is auto-published from the agency feed without modification of the text and has not been reviewed by the editor.
Read all the latest news, latest news, coronavirus news here
Los Angeles bomb technician caused a big explosion
Source link Los Angeles bomb technician caused a big explosion