Entertainment
Kangana Ranaut submits FIR after being threatened with murder in her post to a farm law protester | Hindi Movie News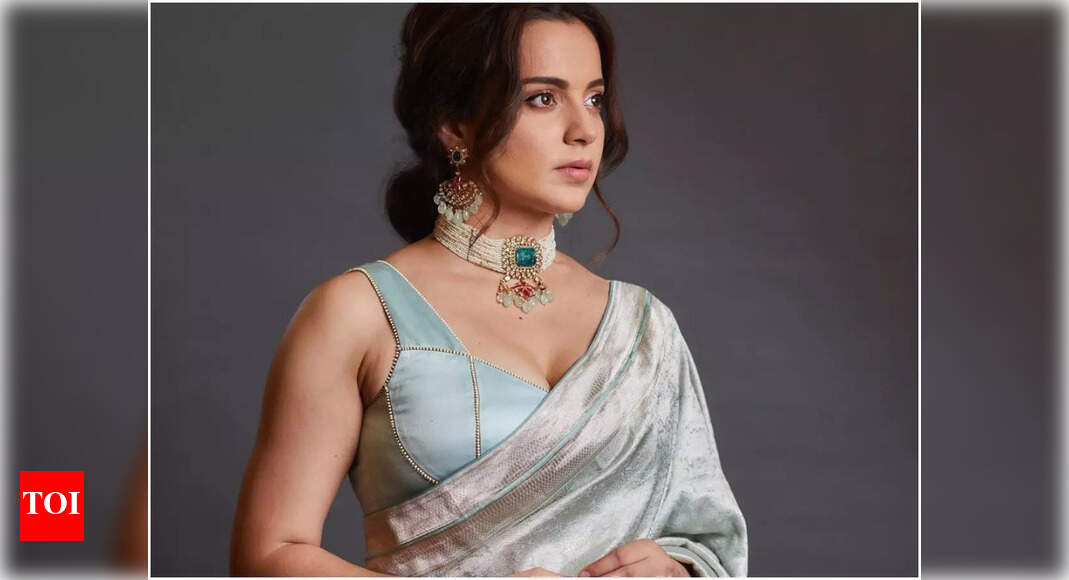 A few days ago, the FIR was submitted to Kangana Ranaut over her social media post about a farm law protester. Now the actress took her Instagram handle and informed her followers that she had submitted a FIR because she was threatened with murder.
The "Queen" actress posted her photo from the Golden Temple with her mother. She also shared a photo of the FIR copy. Post नाहीभूलना, " मुंबईमेंहुएआतंकीहमलेकेशहीदोंकोयादकर ​​तेहुएमैनेलिखाथाकिगद्दारोंकोकभीमाफनहींकरना, title that was attached. इसतरहकीघटनामेंदेशकेअंदरूनीदेशद्रोहीग़द्दारोंकाहाथहोताहै. देशद्रोहीगद्दारोंनेकभीपैसेकेलालचमेंतोकभीपदवसत्ताकेलालचमेंभारतमांकोकलंकितकरनेकेलिएएकभीमौकानहींछोड़ा, देशकेअंदरूनीजयचंदऔरगद्दारषड्यंत्ररचदेशविरोधीताकतोंकोमददकरतेरहे, तभीइसतरहकीघटनाएं होतीहैं. मेरेइसीपोस्टपरमुझेविघटनकारीताकतोंकीतरफसेनिरंतरधमकियांमिलरहीहैं. बठिंडाकेएकभाईसाहबनेतोमुझेखुलेआमजान मैंइसतरहकीगीदड़भभकीयाधमकियोंसी देशकेखिलाफषड्यंत्रकरनेवालोऔरआतंकीताकतोंकेखिलाफबोलतीहूंऔरहमेशाबोलतीरहूंगी. वहचाहेबेगुनाहजवानोंकेहत्यारेनक्सलवादीहो, टुकड़ेटुकड़ेगैंगहोयाआठवेंदशकमेंपंजाबमेंगुरूओंकीपावनभूमिकोदेशसेकाटकरखालिस्तानबनानेकासपनादेखनेवालेविदेशोंमेंबैठेहुएआतंकवादीहो. लोकतंत्रहमारेदेशकीसबसेबड़ीताकतहै, सरकारकिसीभीपार्टीकीहो, लेकिनदेशकीअखंडता, एकताऔरनागरिकोंकेमौलिकअधिकारोंकीरक्षाऔरविचारोंकीअभिव्यक्तिकामौलिकअधिकारहमेंबाबासाहेबअम्बेडकरकेसविंधाननेदियाहै. मैंनेकिसीभीजाति, मजहब, यासमूहकेबारेमेंकभीकोईअपमानजनकयानफरतफैलानेवालीबातनहींकीहै. मैंकांग्रेसकीअध्यक्षाश्रीमतीसोनियाजीकोभीयाददिलानाचाहूंगीकिआपभीएकमहिलाहै, आपकीसासइंदिरागांधीजीइसीआतंकवादकेखिलाफअंतिमसमयतकमजबूतीसेलड़ीं. कृपयापंजाबकेअपनेमुख्यमंत्रीकोनिर्देशदेंकिवहइसतरहकेआतंकवादी, विघटनकारीऔरदेशविरोधीताकतोंकीधमकीपरतुरंतकार्रवाईकरें. मैंनेधमकीदेनेवालोकेखिलाफपुलिसमेंमेंमे मुझेउम्मीदहैकिपंजाबसरकारभीजल्दद देशमेरेलिएसर्वोपरिहै, इसकेलिएमुझेबलिदानभीदेनापडे़तोमुझेस्वीकार्यहै, परमैनाडरीहूँनाकभीडरूगी, देशकेहितमें, गद्दारोंकेखिलाफखुलकरबोलतीरहूंगी. पंजाबमेंचुनावहोनेवालेहै, इसकेलिएकुछलोगमेरीबातकोसंदर्भकेबिनाप्रयोगकररहेहैं, अगरमुझेभविष्यमेंकुछभीहोताहैतोउसकेलिएनफरतकीराजनीतिवबयानबाज़ीकरनेवालेहीपूरीतरहउत्तरदायीहोगें. इनसेकरबद्धनिवेदनहैकिचुनावजीतनेकीराजनीतिकमहत्वाकांक्षाओंकेलिएकिसीकेप्रतिनफरतनाफैलाए. जयहिंद, जयभारत🙏". (Translation: Recalling the martyr of the terrorist attack in Mumbai, I wrote that I would never forgive or forget the traitor. In this kind of incident, the internal traitor of the country is holding the hand. The traitor of the traitor is the mother. Never left a chance to hurt. India's desire for money, sometimes the desire for status and power, and domestic traitors continued to help rebels by colluding, but only then did such an incident occur. There was. My Bachinda brothers openly threatened to kill me. I am not afraid of this kind of threat. I am against those who are plotting against the country and the terrorist army. Talk, always talk, or terrorists sitting abroad dreaming of cutting down the Guru's sanctuary in Punjab in the 1980s to create Haristan. Democracy is the greatest strength of our country, but the honesty of the citizens. Now, unity, basic rights, and basic rights to protect the expression of ideas are given to us by the Baba Saheb Ambedkar Constitution. I am derogatory or hateful about caste, religion, or group. I also want to remind the chairman of the Assembly, Smt. You are also a woman, Sonia Ji, and your mother-in-law, Indira Gandhi Ji, fights this terrorism hard until the last moment. Please kindly instruct the Prime Minister of Punjab to take immediate action against threats from such terrorists, destructive and anti-state forces. I will give the police a FIR against the threats. I registered. I hope the Punjab state government will take immediate action. The country is my top priority and it is acceptable if I have to sacrifice it, but I am afraid and afraid. No. I will continue to speak openly to the traitor for the benefit of the country. The country is my top priority and is acceptable if I have to sacrifice it, but I am also afraid. No. I will continue to speak openly to the traitors for the benefit of the country. There will be an election in Punjab. This is some people using my words without context. In the future If something happens, only those who do hate and terrorist politics are responsible. It is a humble request to them not to spread their hatred for their political ambitions to win the election. Jai Hind, Jai Barrat).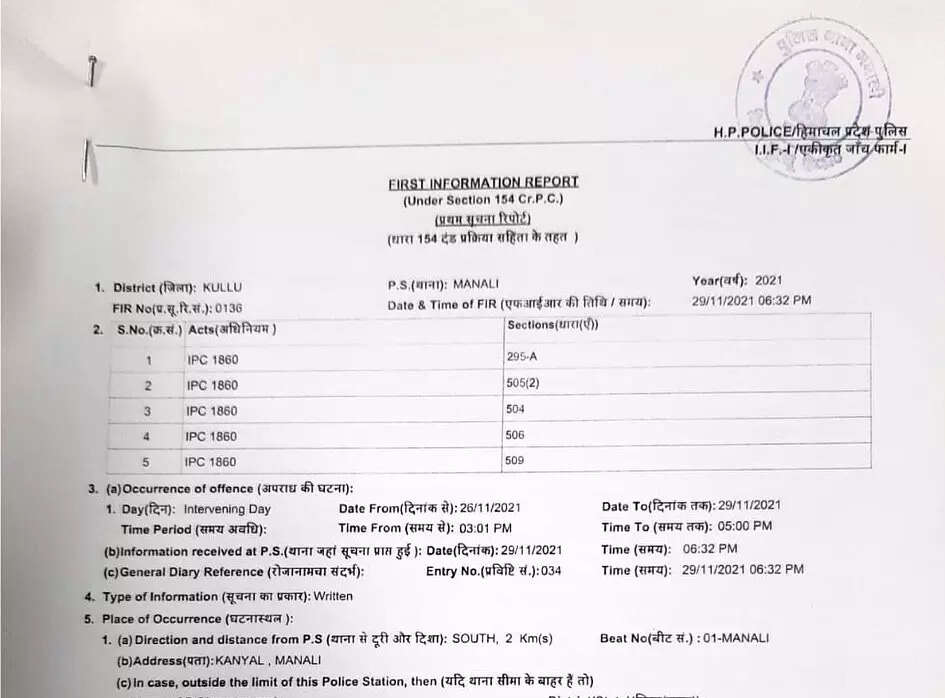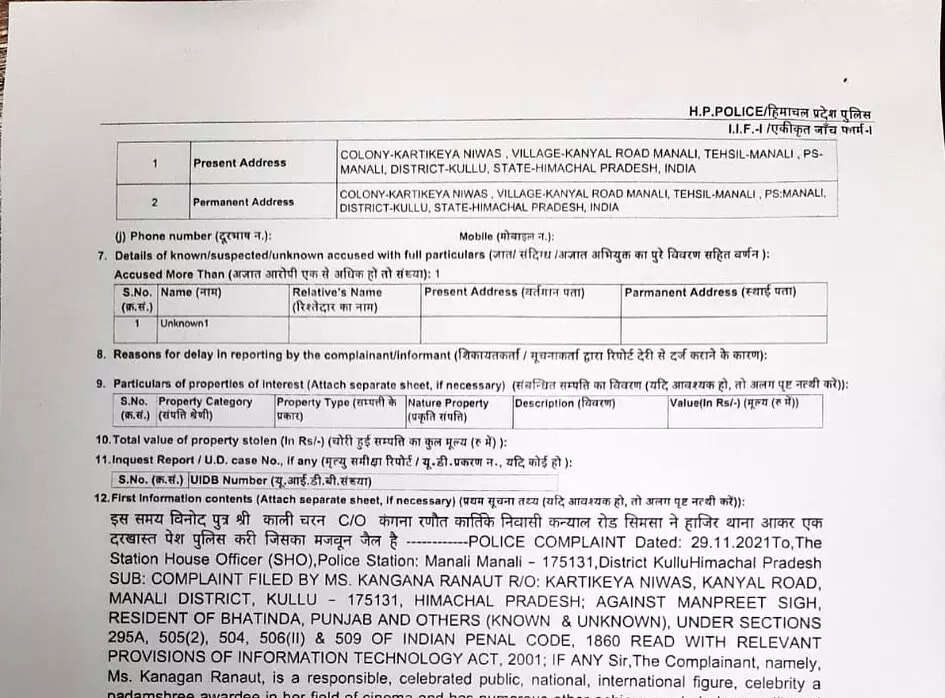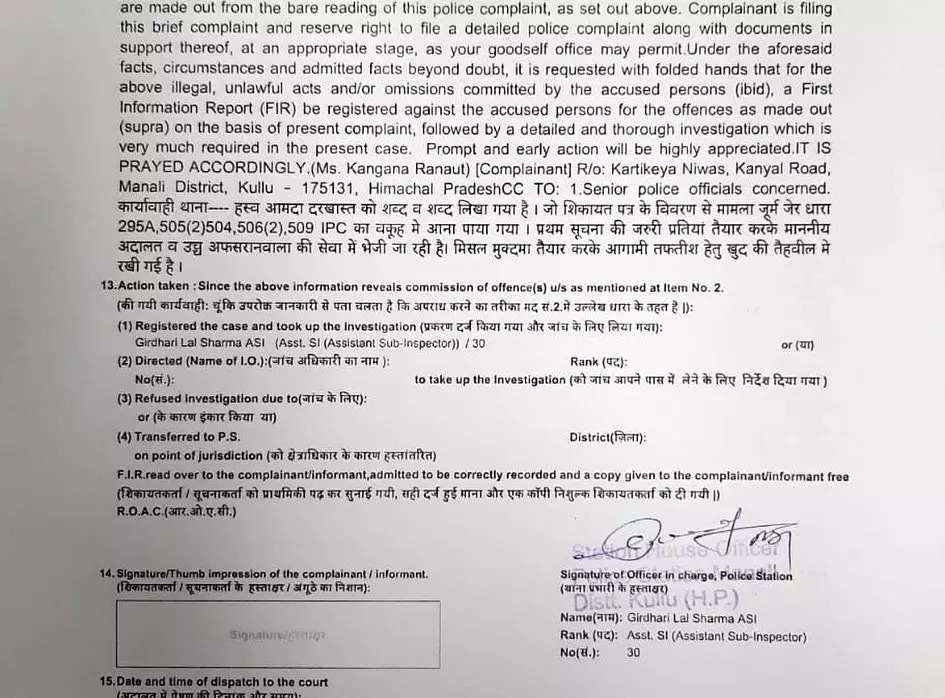 The FIR was submitted following Kangana's remarks after Prime Minister Narendra Modi announced the withdrawal of the controversial farm law last week.
Kangana Ranaut submits FIR after being threatened with murder in her post to a farm law protester | Hindi Movie News
Source link Kangana Ranaut submits FIR after being threatened with murder in her post to a farm law protester | Hindi Movie News